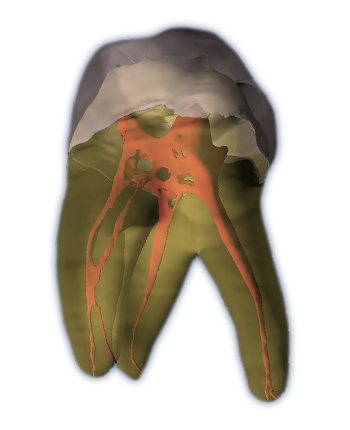 In the case of penetration infection to the the tooth cavity and inflammation of nerve is showing the root canal treatment.
1. Initial root canal treatment is necessary when the infection is due to caries has penetrated into the tooth cavity and cause inflammation of the nerve. In this case, under the control of an operating microscope is carried out creating rectilinear access to the root canals, their consistent passing hand, and then the processing by machine tools.All stages of treatment are carried out under the control of computer anesthesia Wand.
Our clinic has a "new generation endo" program:
is a combination of optical zoom and soft ultrasound, which allows high-quality processing and sealing of root canals with the preservation of healthy dental structures to the maximum extent.
The cost of channels treatment from 200 euros.
The final step is the use of three-dimensional technique of filling root canals by Schilder that helps to ensure long-term and reliable the final result.
2. Root canal retreatment is necessary, when the infection from the root canals, that were not completely are sealed, either not found, penetrated into the bone tissue surrounding the apexes of roots.In this case, under the control of an operating microscope performed unsealing root canal, extraction from root canal foreign bodies (pins, fragments of tools, remnants of cement fillings).
During retreatment channels follow the strict protocol of instrumental medical processing and then into processed channels is put a therapeutic drug based on calcium for their disinfection for a period of 2-4 weeks. In the absence of inflammation symptoms is possible to move on to the final root canal filling.
Analysis and planning of retreatment of root canals must be conducted with the use of computed tomography.
Individual approach to each patient, ongoing dialogue doctor-patient, the demonstration of each treatments stage, the active participation of the patient in the treatment process.